Patrick's
Blog!



Starting this blog will help me to write down what comes to mind as I go about doing the duties of life. I am an inquirer. I like to question and test everything. I am convinced that to live a Christian life is the most rewarding experience a person can choose in this life. So, in my daily life and in my search for Truth, as I am led to understand who Jesus Christ is and what His life and death mean to me, I will attempt to write these things down. This I feel must be shared with the prayer that others may also understand what life on this earth is like with the love of Christ living in and through us.
This is not meant to be a diary, but I will add to this blog as I have time and receive things to write. May God Bless!


Sunday, April 25, 2009:
~~What is a Christian?
Just 'what is a Christian' has been a question which I have thought about for many years. Of course, the obvious answer is "to be like Christ." But what does that mean? I would like to pass on an answer I heard recently in a Bible study class. Maybe this answer will also help you understand what it means to be a citizen of Heaven, starting on this earth, even under the conditions of this sinful world.
When our Bible teacher asked this question of our class, the answer was stated by many, in varying degrees, like the answer given above; "A Christian patterns his/her life as near as possible to the life of Christ." The Bible teacher, wanting the class to think and dig deeper then asked, "And what does that mean?" Again, there were varying answers, all bordering on the cliché answers all good Christians would give. But the Bible teacher was going for something specific which she went on to explain.
Before this world was created there were a few events that took place which caused the plan of Salvation to be put in place. It was Lucifer who started the problem by looking at the actions of God the Father, God the Son, and the angels differently than anyone had before. It was slow and probably not even perceived by Lucifer himself at first, but he began to look inward. As this inward gaze became more intense he could not see the reason for God's law of love and service to other beings throughout the created universe. This was a new way of thinking. Many of the angels followed Lucifer's example of inward gaze, not realizing at first, where it would lead. Looking inward always sets the eyes, whether physical, mental, or spiritual, to look upon self. Looking upon self is the exclusion of service to others, and will always lead away from the law of love, —and that is sin.
Bringing the point on home the Bible teacher went on to explain that, yes, being a Christian is living that life that Christ lived. Christ's life is that of looking out for the creatures He created, even though they rebelled against His law of love. He not only lived in service for others, but He died in service to them, that they may have the choice to reject looking inward and living for self.
"And therein is when the plan of salvation is completed!" the Bible teacher went on to explain. Those who are saved among man will restore the law of love in service to others, —which the fallen angels gave up. We are in that training-camp right now! Under the most terrible and hideous conditions of looking inward, —imaginable only by the devising of the greatest of sins, the follower of Christ is placed. Against such odds, if a person were to draw upon the powers within himself, he could not possibly overcome.
But when he reaches outside of himself, and asks the Spirit of Love to live within, there is no power living for itself, that cannot be overturned by the Power of Heaven. This order of living for one's self interest will not continue for very much longer and the great controversy of self against God's law of love will soon end.

Who then is a Christian? A Christian is one who loves to live for the well being of others, even to the exclusion of himself.

P.S. —A person who looks out solely for himself becomes other-blind, and cannot see and hear the cries of others.


Tuesday, May 3, 2011:
~~The Shepherd's Rod? —Or is it a Staff?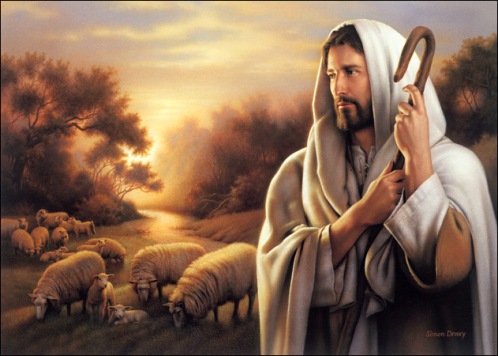 It has come to my attention that there is a difference in the way pastors shepherd the sheep entrusted to them. It appears to me that the relationships pastors have with their sheep are easily seen in the way they use their staff; or better yet, which end of the staff they use.
The shepherd's staff is instrumental in leading his sheep. A shepherd's staff has a crook on one end, which allows the shepherd to draw his sheep to him and to keep them close. A good shepherd knows how to use his staff in every way that will care for his sheep.


On the other hand, there are pastors who never learn how to use the crook end of their staff, and in fact, they only know how to use the rod end. These pastors use the wrong end of the staff, which can only be used to push away their sheep instead of drawing them close. The rod end of the staff can never be used to draw (love) sheep to the shepherd; it can only be used to alienate and drive into the wilderness. —May God bless our pastor/shepherds that they will even care for the sheep whom they may consider unreachable!


Sunday, May 27, 2011:
~~Is God's Last-day Church asleep? Are you asleep?

Do you like that title? —I don't like it either!!!

If you were to ask me at any time during my Christian life, Patrick, do you think you are a sleeping last-day Christian?
I would have been insulted! —and replied, NO! I am a wide-awake Christian, living in the last days of earth's history.



But, guess what?
More study into Matthew 24, Daniel, and Revelation
has shown me that I have been asleep,
—just as much asleep as the ten bridesmaids
of Matthew 25!



Let me share some of my study here, ask a few questions, and then let you answer.
We should read the parable of the ten bridesmaids, which is found in Matthew 25:1-13, often, because it applies directly to us. If you would like to understand the symbols used in this parable, click here. If you would like to read some very good commentary on this parable, start here.
It should also be stated at this time that the popular* interpretation of the event in this parable, the Bridegroom's Coming, is the Second Coming; and that the main lesson is preparation for His Second Coming. (FS) (*Sometimes the popular interpretation is not the correct or complete interpretation.)



I am very concerned for the Christian Church living at this time!

— It appears to me, that. . .
as the generation at the time of Christ was
asleep to the purpose and the time of His coming at that time,
so the Church of today is
asleep to the purpose and the time of His coming
described in Matthew 25! —



(The disciples' generation thought they knew the purpose and the time of His coming to them; but they were spiritually asleep! We may say that some were shaken enough to almost be awakened; but we must conclude that all of them were asleep! )

I believe that among all Christian circles today there is something desperately wrong with the way we understand Christ's parable of the ten bridesmaids. We may not like it or want to believe it, but Jesus teaches that all of the last-day church is asleep! "While the bridegroom tarried, they all slumbered and slept." Matt. 25:5; 23:36; 24:33, 34. It seems to me that the majority of Christians today read into this Scripture, While the bridegroom tarried, all five foolish virgins slumbered and slept. Thus, they don't realize that in fact, —they are also asleep because of course they classify themselves as among the wise! None of us are foolish, right?
The one thing that made the bridesmaids wise or foolish was whether they were carrying extra oil or not. Five of the bridesmaids were wise because they carried extra oil (the Holy Spirit; Zech 4:1-14; verse 6). But we must realize that the wise, even though they had extra oil, they too were asleep, —with the foolish! Many today say, I have the Spirit, and may be deceiving themselves as to what the Holy Oil is really used for. The "wise" were not only asleep with the foolish, but they too, because the bridegroom seemingly tarried, were unaware of the timing of the event! (Extra oil: I like to think of the oil as not extra, but as the fullness of the Holy Spirit living within the human temple, the lamp and the vessel. Thus, it is character developed into the likeness of Christ!)
But not all of God's people are asleep! —Right? Someone gave the cry to wake up. Who gives the midnight cry? Was it the wise or the foolish bridesmaids? You're right, neither, for both the wise and the foolish are asleep! Then who woke up the bridesmaids? Was it angels? No! For the message is given by man. There are some people that are, seemingly, not mentioned in this parable. Who are they? Jesus doesn't mention them by name, but we know a few things about them. 1) They are not asleep —they are awake! 2) They not only know the message, 3) but they know the timing of the message, —they know when to give the message! They know the message so well that they give it in a very short time. In fact, it is more than a cry to wake up, it is an announcement! What's included in this announcement? How did they know this message? It seems that they, like the three wise men of Christ's first coming, had studied the plan of salvation in the prophecies and knew how to give the right message at the right time! —Awake, "For the Bridegroom cometh!"



The grandest, the most commanding,
the most definitive event in the plan of salvation
is about to happen in the Heavenly Sanctuary,
right in front of the last generation's eyes; . . .
YET we are no more ready for the events of
the Last Great Day than if we had not been told!



And why is this? Why are we in such a deep sleep? Why is it that our spiritual eyes are closed, —shut? Have we not been told? What's so pitiful about this condition of the Church is that we don't even know we are asleep! To many, the only event that matters is Christ's death on the cross. And YES! this event is crucial! But, in of of itself, it does not complete the plan of salvation. The Old Testament Sanctuary services teach that although the daily sacrifice (individual) of the Lamb for sin was vital for salvation; those same services also teach that the Great Day of Atonement was the last and final event which requires fasting for the complete obliteration of all sins, —each and every individual sin, —for eternity!
It is not my purpose in this short blog to identify every symbol and every lesson in this parable. I wish to ask a few questions, and see if anyone will respond with the real lessons this parable teaches. Although there are many questions which we could ask, we need to have answers for the following:—

Questions:—
• What is the midnight cry? (Has it been fulfilled in the past, or is it yet future?)
• Who gives the midnight cry? (What name might they be called?)
• In the parable, the ten bridesmaids were physically asleep, but Jesus says that
the last generation is spiritually asleep! To what are we spiritually asleep,
or for what purpose is the last-day Church awakened?
• What is it going to take to wake up God's people?

Hint:—
The fulfillment of the type gives all the answers we need to explain how this parable applies to our generation.

—Our prayer needs to be the prayer of Daniel, "O Lord our God" for it is his book which is revealed in a special way in these last days. "O my God, incline thine ear, and hear; open thine eyes, and behold our desolations, and the city which is called by thy name: for we do not present our supplications before thee for our righteousnesses, but for thy great mercies. O Lord, hear; O Lord, forgive; O Lord, hearken and do; defer not, for thine own sake, O my God: for thy city and thy people are called by thy name." Dan 9:18, 19. Jesus as our Great High Priest in the Heavenly Sanctuary tells us, the Laodicean Church, to "anoint thine eyes with [His] eyesalve, that thou mayest see." Rev 3:18. Open eyes, anointed with the Heavenly Oil [Eyesalve], will produce praise, thanksgiving, and glory to the Father "for His great mercies." This is true preparation!

In Closing:—
It would do us well to study, then study some more, and don't stop until we understand why and what we are asleep to! Please, do not send a book of explanation; and please use Scripture proofs, —thank you. In just a few short paragraphs, explain the misunderstood and untold elements of this parable. I have written this blog, not in the form of an explanation (although that is what it is), but in the form of a question, —because I would love to hear from you!



Are you awake?




Email Comments to Patrick at littlebookopen@msn.com